The workshop provides five "How To" strategies ranging from creating a "profit oriented business" to "exiting a business career with a profit". Workshop attendees also learn key strategies for Building, Pricing, Packaging and Selling their business to another business professional.
The course has one main objective: That of teaching business owners How To incorporate new business strategies as tools for building and maintaining the highest level of cash flow and profits throughout (and beyond) a business career.
Raise, Retain & Recycle - The "3 R's of a Successful Business Owner" . Learn How To use NEW Tools and 21st Century strategies for build a profitable business operation.
---
THE ART of PLANNING for Financial Survival and Profits
Create an effective business plan in one day! Bring your business goals to the workshop and, after completing KEY exercises, walk out of the workshop with ALL components of an effectively written business plan.
---
The Art of Financial Survival in Changing Economic Times
This Workshop explains How To:
Develop a Full Service "Fee For Service" Income Option in your Business,
Define a "Competitive Hourly Rate" for Client Consultation Services, and
Present the "Hourly Rate" Option to the Client.
---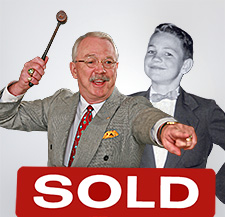 Understanding THE BASICS of Auctions from A to Z
……in Consumer Terms
This workshop includes:
How the Auction Method works,
How to qualify as a Buyer or Seller for the Auction Method of buying and/or selling,
Understanding the "Foreclosure Auction" Process, and
How to effectively work with an Auction Firm as a buyer or as a seller.
---
THE Auctioneer & The REALTOR® - A Paradigm Partnership"
This Workshop explains how the different marketing methods used by the Auctioneer and the Realtor® can be blended together to achieve the common goals of the real estate seller. Attendees learn how to create effective marketing partnerships that attract highly qualified real estate sellers and buyers.