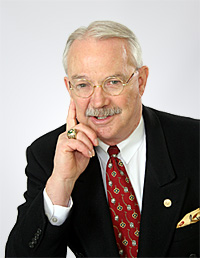 Born and raised on a Kansas wheat farm, one of Chuck's greatest prides as a young boy was being named "Kansas Poultry Judging Champion"! Graduating from Kansas State University (B. S. in Theatre Education and M. A. in Communication) he was a Graduate Assistant Instructor on the Speech and Drama faculty. Additionally, he became Corporate Strategic Plan Certified by the University of Michigan Graduate School of Business. Forever seeking to improve his professional skills, most recently he graduated from the prestigious Certified Instructor's Institute and The Community Leadership Program.
Currently, he serves on the Mendenhall Auction College faculty, the Virginia GRI Faculty, as a Senior Faculty member for the Northern Virginia Association of REALTORSŪ, as an Honorary Faculty member for a major international real estate university and as an instructor for the James Madison University Lifelong Learning Institute.
Before his current business career he excelled as a nationally recognized corporate marketing director, successfully managing operations in the Pacific Basin, West Coast and Mid-Atlantic states. As the corporate officer responsible for product and market development of a leading international company, his recognitions included being the innovative pioneer in creating visionary insurance programs such as domestic pet medical insurance, corporate medical stop-loss and long term care insurance for aging Americans.
Chuck has enjoyed active membership in the DC Board of Trade, World Trade Council, Greater DC International Business Council, Alexandria Prison Ministry President's Council, San Francisco Big Sisters Board of Directors and the Harrisonburg/Rockingham Chamber of Commerce. He was honored as Virginia Businessman of the Year while serving as Co-chair of the National Business Advisory Council and inducted into the International Global Register's WHO'S WHO of Business Executives. Additionally, he is a Circle of Champions honoree of a major international real estate company, a member of the Chamber of Commerce Community Leadership Program and serves on the Business Advisory Board for FORBES Magazine.
A Vietnam era veteran, he is a Distinguished Military Graduate and Honoree to the Kansas State University Military ROTC Wall of Fame. As an active Benefactor Member of the Marine Corp Memorial Association, he is a frequent motivational speaker at military events.
With "umpteen years experience" as a corporate sales manager, corporate executive, business coach, REALTORŪ, Auctioneer (VA 1867), creative marketing consultant, fund raiser, published writer, educator and sought after convention speaker, he has successfully achieved "A Boat Load" of professional honors and designations. As an active Board Member of the Virginia Auctioneers Association and the North America TOP 10, he is recipient of the distinguished HMS Levi Advertising Award for Creative Business Marketing and charter recipient of the Distinguished Service Award.
Multiple organizations such as National Association of Mortgage Brokers and institutions of higher learning (Pepperdine University, Mississippi State University, Rowan University, James Madison University LLI and Kansas State University) have engaged him as a speaker in acknowledgement of his innovative and creative business visions and ideas.